Do you often find yourself distracted during your working hours? You kick-start your day, but soon you realize you're focusing more on your phone, or scrolling down the news feed on your social media account? Well, you're not alone here.
According to a study, employees spend the majority of their day on unproductive activities like 26 minutes searching for new jobs, 44 minutes checking social media, and over one hour reading news websites. This ultimately affects their productivity in the workplace.
Luckily, today, there are many useful apps available that can help you stay focused and increase your productivity at the workplace. In this post, you'll learn about the best work productivity apps that can help you stay focused.
What is Workplace Productivity?
Productivity at the workplace or workplace productivity describes the number of work employees can accomplish in a particular work environment over a specific period of time. Keeping workplace productivity high is important for any company to reduce its costs, expand its operations, stand out in the competitive market and to satisfy the stakeholders.
Apps that Help in Increasing Productivity in the Workplace:
1. Toggl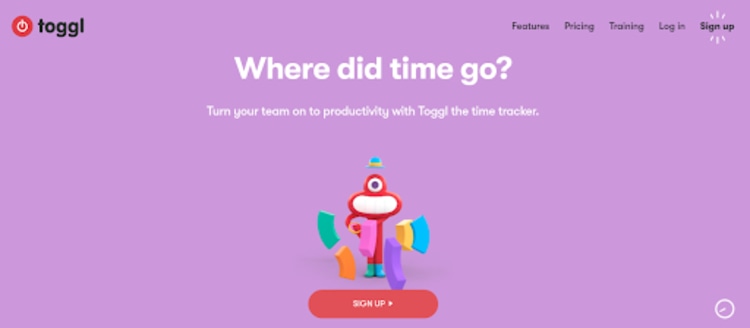 Do you want to know what's slowing you down and how you get distracted at work? Or how much time you spend doing something productive in the workplace and where you waste your money and time? Toggl, the cloud-based time tracking app has got you covered! The powerful, simple and hassle-free time tracking app, Toggl, is designed for employees to track their hours and manage their work with a single tap. You can track your productive and non-productive hours easily and also find out what is helping you to make money and what is holding you back.
Features
Ability to record every website and program you have checked for more than 10 seconds.
Auto time tracker
Get access to their robust reporting features
Integrations for Chrome, Mozilla, Android, iPhone, and desktop
Allows you to add time manually
If you need to access more advanced features, you can subscribe to its Starter, Premium or Enterprise account as per your needs. It will cost you somewhere between 9-18 dollars per month.
2. MindMeister
Want to capture, develop and share ideas visually, but don't know how, MindMeister has got your back. From creating and editing graphical mind maps and sharing maps directly from the device to seamlessly syncing maps and folders with your free online account, this award-winning mind map editor is designed for brainstorming and project planning. The online mind mapping application allows your team to be more innovative as it provides a brainstorming environment and a shared collaboration on the web.
With this app, you can manage three mind maps for free. In order to unlock advanced features like chat functions, sharing with multiple team members, backing up data, and adding attachments, you need to buy the subscription plan.
MindMeister is a web-based app that doesn't require any downloading or updating. You can access it right on your web browser from your Windows PC, Chromebook, mobile device, Mac, and Linux computer. Ideally suited for building site maps, data maps, or building maps in the cloud, you don't need to install extra software
Features
Share maps directly from the device in real-time.
Totally intuitive, no mess or clutter from fancy frills.
Built-in presentation mode allows you to turn mind maps into dynamic slideshows in a matter of a few seconds.
Easily drag and drop your ideas into a connected MeisterTask project.
Create digital mind maps for your projects and then customize them with different shapes, colors, and fonts.
You can use up to 3 mind maps for free in the basic plan and if you want advanced features, you can go with the upgraded versions, starting from personal ($4.99/month) to Pro ($8.25/month) and business ($12.49/month).
3. Doodle
Having trouble coordinating an event for your company? Or having difficulty organizing the number of attendees for business meetings? Leave all your worries to Doodle. This amazing tool has made scheduling easier than ever. It offers solutions to save you the time and effort needed to manage and plan meeting schedules. Doodle offers a wide assortment of features that simplifies the scheduling process. It offers many services for free like Doodle Mobile, Doodle account, Connect Calendars and MeetMe for free.
Features
No sign-up is required to create multiple polls with times and dates.
Automatically adjust the time slots when communicating in different zones.
Support Apple's iOS 10 features
180 million unique users from 175 countries and is available in 22 languages.
Automatic and manual reminders
Native app for iPad, iPhone
Although Doodle is free for individual users, it also offers various paid enterprise and business packages. These packages range from 49 to 69 dollars per year.
4. Shapr
Are you looking to make professional connections within your industry? Whether you want to connect with hiring managers, job seekers or entrepreneurs who are looking for mentors for their business, Shapr is your ultimate destination. It works quite similar to Tinder, but this networking app is only for making professional connections.
It shows you a list of users based on your skills and industry whom you can connect with by swiping right. Just like Tinder, you can only interact with a user who has mutually swiped right. The app offers a curated list of profiles based on your industry, experience and self-selected interest. This app has also been featured in Techcrunch, Product Hunt Inc, Forbes, and Venture Beat & Fast Company.
Features
Compatible with Android and iOS, you just need to sign-up using your LinkedIn account or an email ID.
Simple UX, means you can swipe right if you are interested and swipe left means you don't prefer to interact with the specific person.
Customizable profiles
Connect with people of similar skills, interests, and passions.
The basic version of Shapr comes free, but if you want to enjoy more advanced features, you might want to consider signing up for a paid account. It will cost you somewhere between $8 to $20 per month.
5. Calm
Stress, anxiety, lack of sleep and confidence, these are a few issues many people suffer from, which can reduce their productivity at work. Luckily, there is an app called 'Calm' that is designed to help users boost confidence, reduce stress, anxiety and sleep better. From breathing programs, bedtime stories, masterclasses to relaxing music and meditation, this app has everything to make you feel relaxed and stress-free. Recommended by therapists, mental health experts, and psychologists. Apple itself named it the iPhone app of the year in 2018.
Features
Guided meditation sessions are available- from 3, 5, 10, 15, 20 to 25 minutes long. You can choose any according to your needs.
Compatible with both Android and iPhone
100+ bedtime sleep stories for children and adults, featuring Matthew McConaughey, Jerome Flynn, and Leona Lewis.
Mindful topics include deep sleep, calming anxiety, managing stress, happiness, relationships, gratitude, walking meditation, forgiveness and more.
Breathing exercises to help you relax
More than 30 soothing scenes and sounds to use during yoga, meditation, etc.
The app is free, but you are restricted to a precise number of meditation programs per month. If you want to unlock 100 guided meditations, then you can get a paid subscription at 13 dollars per month, 60 dollars per year or 300 dollars for a lifetime subscription.
Running a business means handling and managing endless tasks. Whether you are an employee or an employer, it's important for you to stay focused and organized. By using the above productivity apps, you can make things easy for yourself at the workplace. Use these apps and let them do the work, earn extra time and focus on the growth of your business.
If you want to be productive this year, the above six apps will surely help. Sign up for a free trial now and see if these apps work well for you.
---
Related articles: